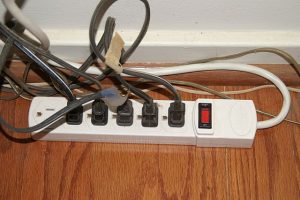 Many house fires start from simple causes which could have been prevented easily. This 2017, make the resolution to break these electrical bad habits!
"Daisy-Chaining"
Are you guilty of plugging in a power strip into another power strip to gain more outlets? This common occurrence may make things convenient but it greatly increases the chance of an electrical fire. You can easily exceed the power capacity doing this. Instead, hire an electrician to add more outlets. It will be cheaper than replacing your home!
Cord Yanking
Do you tug at the power cord to remove a plug from an outlet? Bad move! The cord could tear causing sparks to fly out and ignite neighboring objects and materials. Always remove a cord by grabbing hold of the plug.
Dust
Many of us fail to clean the area where all the cords to our electronics sit, such as behind the TV stand. Dust quickly ignites so be sure to give those areas attention when cleaning.
Bulb Outlet
Each bulb outlet has it's own capacity for power. Installing a 100w bulb in a 60w max outlet can easily cause an electrical fire. Be sure to read the outlet limits before purchasing your lightbulbs!
Appliance Overcrowding
Too many appliances in one space will not let their heat dissipate safely. In addition, only one appliance should be plugged in per outlet to minimize the chances of a power overload!