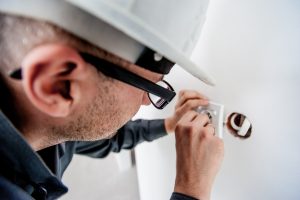 If you are asking yourself how an electrical safety inspection could benefit you, consider that electrical problems are the leading cause of property damage in the United States. Many of these incidents are completely preventable and the sources of these issues could often be easily spotted during a proper inspection. Below are what you need to know about electrical safety home inspections and why they are necessary to ensure your home is safe for you and your family.
An electrical safety inspection is a thorough examination of the entire electrical system in your home. We will check to assure all wiring, devices, systems and appliances are properly installed to avoid hazards and maximize usability. A close inspection into your electric panel will tell us if this essential piece of equipment is working up to standards, if it is aged or damaged at all and negatively affecting your electrical system, and if it is safely connected to the many devices around your home. We will then examine all visible wiring throughout your home to ensure it is not only working correctly but not posing any hazards such as a split or aged wire. Though there are several other parts of your electrical system we will check, these are the main units that could cause damage to your property.
All homeowners should have periodical electrical safety inspections but some outstanding situations which you should most certainly inquire about an inspection in the immediate future are:
• If your home is more than 40 years old
• If you are unsure of the last time your home was inspected
• If you have purchased new large appliances such as a washing machiene, drying, dishwasher, etc.
• If your home has had any remodels or major renovations
• If you are purchasing a home, regardless of how new or old it is
• If you have noticed any electrical irregularities
For more information about this and other services Cardoso Systems offers, please visit our Service Page. If any of these circumstances apply to you or if you are unsure if your home is safely wired, take the first step to assuring you and your family are safe by contacting us today for a free estimate.