Becoming an electrician takes practice, dedication and years of studying to perfect the technique. There are several types of electricians but the Journeyman Electrician has accomplished advanced training and has accomplished a particular skill-set.
Not only is in-depth study a necessity but this particular electrician requires a certain number of hours out in the field.
So What is a Journeyman?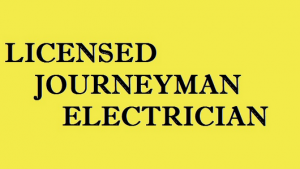 Most states require a test, though not as intensive as the Master Electrician exam, this is still an extremely difficult test to pass. First you must complete training and apprenticeship in the given field before you can even begin this test. Then, you must document your time to showcase the proper training has been completed. A majority of states require you take between 6,000 to 8,000  hours of hands on training in the field. In most cases it will take about 3 to 4 years before attaining the proper credentials.
What Jobs Can the Journeyman Do?
When you have received your Journeyman license, there are a number of opportunities including:
Emergency electrical repair
Troubleshoot wiring
Review blueprints and provide cost estimates
Update older equipment and circuitry
Install circuit controls
When you are in need of a 24hr emergency electrician, contact Cardoso Electrical Services. We offer wiring, LED lighting, exit signs, neon and florescent light repair and more.