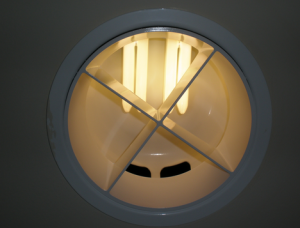 As one of the most versatile lighting options, recessed lighting has been making its way into the home for years. By adding recessed lighting into the home, you can choose which levels of light you would like. The best part? This is the most unobtrusive lighting in the industry.
Determine New Construction or Old Construction
For those of you building a new home, you want to opt for new construction housing. If you are installing recessed lighting to an old or existing structure, you'll need to consider remodeling or old construction housing.  Once you have these main components determined, Cardoso Electrical can walk you through the process of selecting the following options:
Ceiling insulation
Airtight/energy efficiency
CUL damp locations
Fire rated enclosures
Firebox
Choose your Trim
Trims come in array of colors and shapes; they are the only visible part of the lighting. It's crucial that the trim matches the current or new housing. There are a vast amount of trims to choose from including:
Baffles
Reflectors
Wall Washers
Lenses & Diffusers
Open
Eyeballs & Adjustables
Decorative
Consider the Bulb
Generally, the housing and trim will specify which type of lamp or bulb to purchase. Here is a rundown of some typical bulbs:
Incandescent
Compact fluorescent
Low voltage 12 volt
MR and PAR lamps
High intensity discharge
Mercury vapor
To have recess lighting installed in your Boston MA home or business, contact Cardoso Electrical Services. We provide industrial, commercial & residential lighting installations in Malden, Somerville, Quincy & the Greater Boston area.