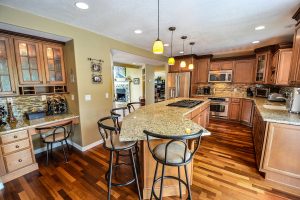 Want to add something new to your home but keep the project simple and low-budget? Consider our suggestions for small additions to your home to make it even better!
New Fixtures
Simply adding new fixtures to your bathrooms and kitchen can change the look and feel of the entire room. A complete bathroom or kitchen remodel is a major project so if you're looking for a smaller start, consider picking out new fixtures to start this long-term project. If you're looking to make a subtle but significant change to your bathroom or kitchen, consider a new light fixture to brighten the room.
Home Theater
Do you have a spare room that you aren't using? Don't let that space go to waste! Instead, consider transforming it into a home theater. A whole room dedicated to watching television and films is perfect for any family who loves watching together as well as kids' sleepovers, sporting events, and much more. Instead of fighting over what to watch in the living room, have a room dedicated to film!
Surround Sound System
Surround sound systems are perfect for any home theater or living room television, improving the viewing experience immensely. In addition to your TV viewing, there are hundreds of options when it comes to choosing how to listen to music in your home. A surround sound system is the best way to listen to music in any part of your home. Whether you're cooking dinner or outside gardening, listening to music with a surround sound system will surely improve your listening experience.
Wine Cellar
If you have space in your basement and are a big wine drinker, you should consider converting some of your space into a designated wine area. Installing a wine cellar chiller will free up space in your refrigerator and guarantee you have plenty of wine options ready to drink for any occasion!
Phone-Controlled Systems
Would you like to control your lights, heating, air conditioning, television and more from your cell phone? Many homeowners are switching to new phone-controlled systems to have all of their controls in their hand at any time. These systems are convenient and easy to control!
While you can do some of the work required for these projects, we highly recommend getting assistance from a professional for the electrical work. Cardoso Electrical Services provides these services and more to Massachusettes, New Hampshire, and Vermont residents! Check out our Residential Services page to see even more of our services and contact us today for more information!